The Forward project keeps on walking
Posted on July 2, 2012 by admin in Forward project
On June 28th and 29th 2012 the second transnational meeting of the Forward project was held in sunny Timișoara (Romania), with the support of the Romanian partner IREA.
After our intense work in the past months on the conceptual model and research phase of the project, the partners from Austria, Finland, Italy, Lithuania, Romania and Spain were able to share and compare the results of their research on the experiences of migrant women and their competences.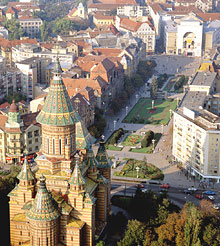 Research conducted by the Forward partners has shown that migrant women all over Europe develop a great variety of competences during the migration process, but generally have difficulties to get them recognised in European host countries. A newsletter presenting more detailed results of the national and comparative research reports, as well as the full reports, will be soon available for download on this website.
On the basis of research, in Timișoara partners also decided on a draft list of competences key to social inclusion of migrant women and the basic methodology of the Forward competence portfolio and tools.
In the following months partners will intensely work on developing all these tools that will allow to identify, recognise and develop the competences of migrant women.
In 2013 these Forward tools and materials will be pilot tested with 150 women in Europe and disseminated in training workshops for professionals. The final version will be included in the Forward Handbook and Toolbox, to be published in electronic format in 2013.